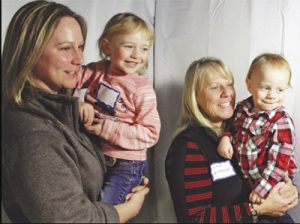 Candace Bryks openly admitted, "I'm one of those mad Albertans."
Bryks was one of several attendees at the Fort Saskatchewan-Vegreville PC Constituency Association's annual general meeting to voice their opinions to local party representatives.
Bryks said she found the connection between the PC's and industry to be disappointing, and that no matter what the industry, the perception is they were in bed together, particularly when it came to environmental issues. Bryks also voiced her concern about declining number of rural youth attending post secondary education.
She was commended for coming to the meeting and stating her comments and concerns by panel members during the general discussion portion of the meeting. The panelist included: PC Interim Leader and MLA for Calgary-Hays Ric McIver, former Fort Saskatchewan-Vegreville MLA Jacquie Fenske, PC Vice President of Communications Catherine Keill, and PC youth member and volunteer Kevin Ottewell.
"It's been quite a year since May 5, but we've come a long way," said McIver. "We are making progress, and driving towards policies that will make Alberta better." Mica also thanked attendees for supporting the party. Fenske asked attendees not to sugar coat their comments, and bring forth their concerns as well as their suggestions.
There has been a lot of talk about uniting the right, and the PC's joining the Wildrose, but that is just one idea being bandied about. Fenske said they have to come up with a solution for everyone. "It's about coming up with the best balance. Personally I'm not attached to the name…What's important are the policies and what we stand for."
Fenske went on to say, "We're all one voice, and we're all equal. That's part of living in a democracy." Party members will also have a chance to voice their opinions and concerns when they next meet in Red Deer on Saturday, May 7 for the PC Association of Alberta's Annual General Meeting. Even though the next election will probably be held three years from now, or 1,022 days, Fenske said they had better have their running shoes on well before that.
Another topic of conversation that was discussed was the PC Engagement Committee. Keill said 35 sessions were held throughout Alberta with 2,200 members responding to their survey, and many one on one interviews with candidates to hear their views first hand. "It will culminate in a report in May at our AGM.
Keill said the general sentiment is that members are committed to rebuilding the party as long as they stick to their principles. She said they got lost during the election campaign, and voters didn't trust their decisions.
"It was a very important lesson. Going forward we will have to operate differently." As to what will happen next for the party, Keill said that, "If we can't get our legs back out from under us, then we'll have to look at other options."
Those options will be discussed at the PC Association of Alberta's annual general meeting in Red Deer in about three weeks time.
Michelle Pinon
Editor
Read more stories like this in the latest version of the Lamont Leader! Pick up a copy on newsstands today, become a FREE E-Subscriber (allow 24 hrs activation) or read on ISSUU.com.