The Bruderheim Community Clinic officially opened for business on Tuesday, January 3.
Mayor Karl Hauch said the partnerships the town has formed, and is currently forming with businesses and many other organizations, are and will be paying dividends in the community.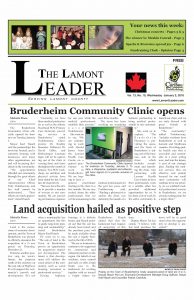 "The opportunities afforded our community through the great efforts of our Chief Administrative Officer Patty Podoborozny and her staff cannot be understated. Their efforts are much appreciated," stated Hauch.
"Currently, we have three medical professionals as well as the Alberta Heartland PCN (Primary Care Network), providing services in Bruderheim," stated Podoborozny. Chiro-practor Dr. Bradley Basaraba, Podiatrist Dr. David Gibbs, and Reflexologist LeeAnne Egan will all be operating out of the clinic at varying dates and times throughout the month of January.
Two PCN workshops on nutrition and physical activity have been slated for Jan. 9 and Jan. 22 respectively… For more see the Jan. 3/17 Lamont Leader