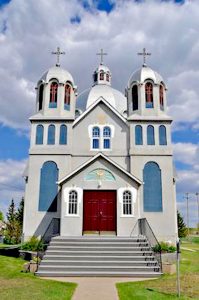 Sunday, January 7 was Ukrainian Christmas, one of the most important Orthodox holidays.
Lamont County's many Ukrainian residents spent Ukrainian Christmas in the family circle and with the loved ones in their warm homely atmosphere.
Some families celebrated Christmas with special Ukrainian traditions:
• The Christian feast is known for the atmosphere, devotion and spirituality.
• Nativity scenes representing the Biblical story of Jesus Christ's birth are found in both Ukrainian churches and homes at Christmas.
• Many Uk-rainians attend Christmas Eve liturgy in a church, which is one of the most important rituals.
In traditional Ukrainian fashion, children dressed in Ukrainian garb sing about Christmas on the streets of their town – called "kolyadky". Some may have knocked on doors to perform kolyadky and receive in return words of great gratitude and even be given tasty treats….
For more see the Jan. 10/18 Leader